Virtual Fashion 2.5D
Near future type Virtual fitting clothes system
Challenge for near future fashion, provide virtual fitting experience that fits like genuine
VirtualFashion is a system that allows you to experience clothes trying on without going to a fitting room. By displaying the body of the user through the camera on the digital signage and by displaying the virtual clothes from the top to the user's body and displaying it, you can experience virtual real fitting like actually wearing clothes.
Since the camera automatically recognizes the user's motion and can confirm the real close fitting image, it is time to try fitting clothes such as wedding dresses and kimonos, which is troublesome for trying on, and when you publish a brand new collection, You can use it in various situations such as transformation experiencing type content.
Cost reduction with images.
"Virtual Fashion 2.5D" feeling trying not to be a picture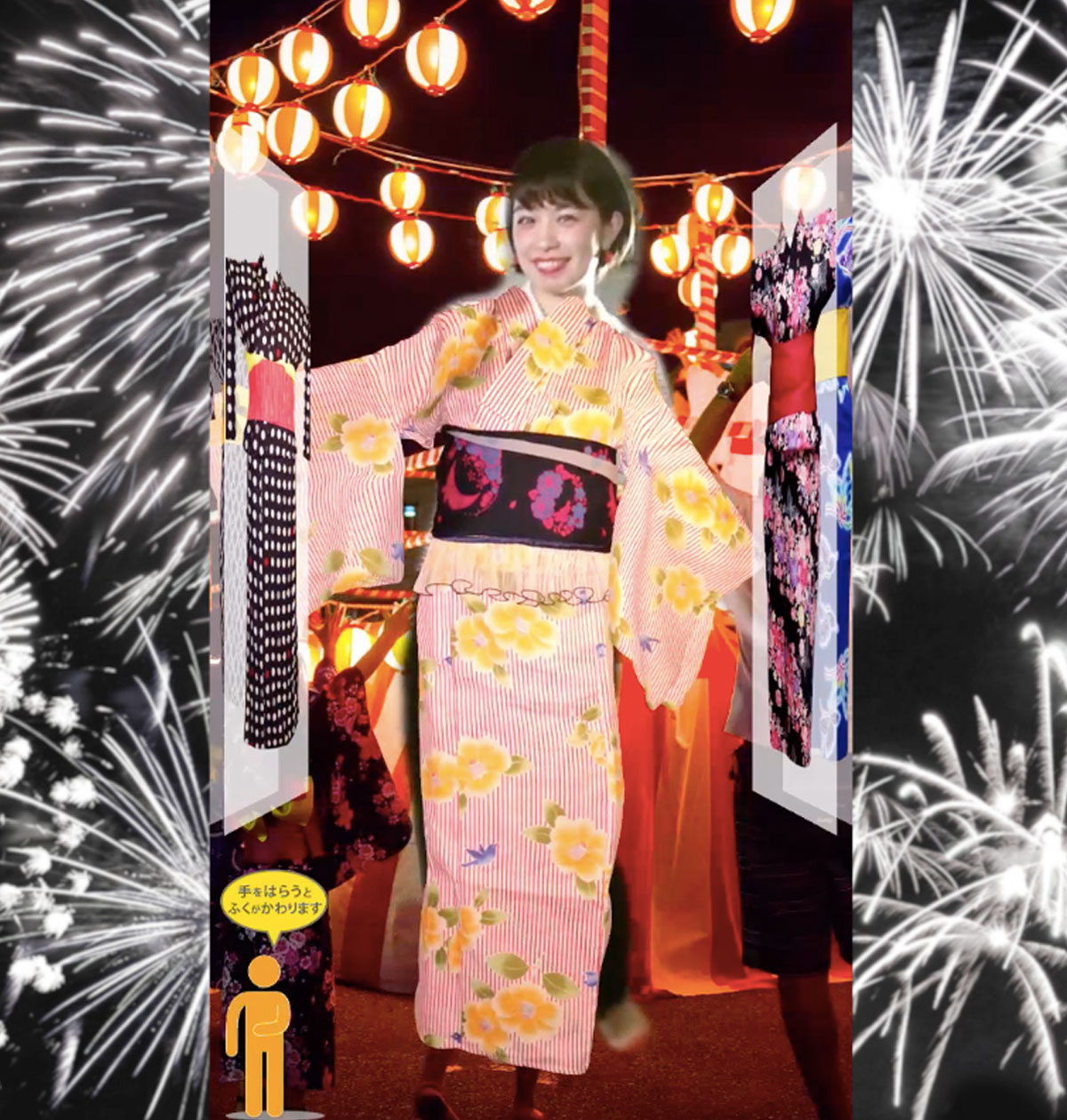 One of the contents of Kinesys Virtual Fashion 2.5D just captures clothes images, you can try virtual fitting that fits your body as if you are actually trying on. In the movie it looks like 3DCG, but in fact the pictures are superimposed on the body. Of course, not only superimposing images of clothes on top of the body, but also reproducing various textures such as fluttering dresses and lace, tulle, satin's luster, aimed at nearly real quality nearly impossible.
Because you use only images, you do not need to produce clothes with 3DCG that costs money to produce.
It's a photo so it's easy to add. If you have pictures of new dresses you do not have at hand yet you can try it on. Easy to continue even in the apparel industry where trends change rapidly is attractive.
Experience virtual real fitting like real as if it were never before
The biggest attraction is not only to display static images (photographic image data) of general clothes in signage, but also to move the still image clothes fluttering.
Without trying on clothes, you can experience virtual fittings while keeping the real texture and shake of the clothes.
Provide advanced virtual try-on system at low cost
By using general still images, we succeeded in reducing overwhelming introduction and operation costs without having to order 3D production. Since the amount of data has also been reduced than in 3D, it is possible to introduce more products.
Users can enjoy virtual fittings easily without actually wearing clothes.
Conventional virtual fittings were difficult to continue because orders for the production of clothing content data (2D, 3D) were ordered to specialized vendors and introduction, further operation and maintenance etc. cost a lot of cost. Our Virtual Fashion 2.5D combines unprecedented functionality and has succeeded in significantly reducing costs.
Movie contents
Add kimono to default content. It is perfect for measures for overseas inbound.
We will add Kimono as new default content.
As variations, we have various costumes representing Japan such as kimono, Shinsengumi, Ninja, Yamato Takeru Nomikoto etc. It is content that is compatible with events for overseas inbound. It is coming soon.
Try on a dress with Virtual Fashion 2.5D
Wedding dresses take a bit of trouble to try on. In such a case, by experiencing virtual fitting once, it is possible for customers to see many dresses in a short period of time, and it is possible to narrow down the number of pieces to actually try on from the minimum to the necessary minimum. It is effective in reducing trial work and reducing time.
With VirtualFashion 2.5 D, it is unnecessary to create clothing contents with 3DCG etc. used in the conventional virtual trial fitting system, so it is possible to reduce the introduction cost and operation cost by overwhelmingly.
Try on yukata on Virtual Fashion 2.5D
When purchasing Yukata or kimono, for example, there are many cases where it is often folded in a plane, so it is often difficult to imagine the figure when you actually wore it. In such a case VirtualFashion 2.5D stands in front of the screen, you can grasp the image at the time you put on your clothes accurately, so you can expect to increase sales.
Transformed into a character (hero) with virtual fashion 2.5D
By using VirtualFashion 2.5D you can easily transform into a character. Just like disposable clothes fitting, just by setting the character's picture, the character's photo starts to follow the movement of the body.
AI (artificial intelligence) transformation system that suggests the best clothes for those worn by the user
It is a demonstration of VirtualFashion which uses deep learning which can recognize things (goods) owned by users and transform them according to thing (goods).
By incorporating the AI element into the AR signage "Kinesys", for example, it is possible to automatically recognize the toys which children have taken, convert it into an animated hero, clothes matched to the hat worn by customers who visited the clothing store AI signage "ARIA" capable of coordinating can be proposed.
Features of VirtualFashion 2.5D
Cost reduction (Provide virtual fitting at low cost)
Since it is possible to do virtual fitting just by preparing clothes picture material, production cost such as one hundred thousand yen is not applied to 3DCG production cost of clothes as in the past. Therefore, virtual trial fitting system can be provided overwhelmingly at lower cost than before.
Also, by preventing troubles such as getting dirty clothes dressed when trying on, you can cut costs such as cleaning fee.
* Cleaning fee 14,000 yen / wearing a wedding dress
Easy and easy to try on
Even clothes that you could not try on easily, such as a prom dress, kimono etc., you can easily try on without worrying about dirtying. Also, by using Kinesys to narrow down clothes suited to yourself from many goods, you can minimize the amount of fitting required, so you can expect to save time and reduce labor.
Topicality and catching power
Still, there are few shops that are actually introducing virtual fittings earnestly, so topics and powerful catch power for people walking along are excellent. It leads to interest.
Try on without inventory
Because you can try on without inventory in the store, you can expect to reduce customer dropouts.
Clarification of market
It is possible to acquire the data of the trying on product, the sex and age of the fitting person. Analyze the collected data and use it for market research as well.
VirtualFashion Specification
VirtualFashion 2.5D can be used immediately if there is a display (monitor) and a recommended personal computer. You can start the next generation signage system at once by installing the camera included in "kinesys basic package" and installing the software, which we will pass upon purchase / rental.
The recommended basic operating environment is as follows.
· OS: Windows 8.1 or later (64 bit)
· CPU: Intel Corei 7-4785T quad core processor or more
· Memory: 8 GB or more
· GPU: NVIDIA GeForce GTX 860M or more

* We also accept lending for customers who can not prepare operating environment. Please contact us.