AR signage Kinesys
Evolutionary signage that can not keep on looking back
Turn the customer back as if to "strike a shoulder". What is Evolutionary AR Signage Kinesys?
Unlike traditional digital signage that only flows still images and moving images, it changes not only in photographs and movies, but also in real time in response to movement of people, evolution with a variety of contents that touches a dialogue It is a type AR signage system.
In addition to displaying information, it also has the effect of turning around like a "shoulder striking" to customers who passed the street, advertising effects and eye catching power are outstanding.
You can enjoy various contents such as mask function and scratch function, including Virtual Fashion 2.5D (VF 2.5D) which allows you to try virtual fitting by directly capturing photographs of clothes such as catalogs.
I can not help stopping! Evolutionary AR signage "Kinesys"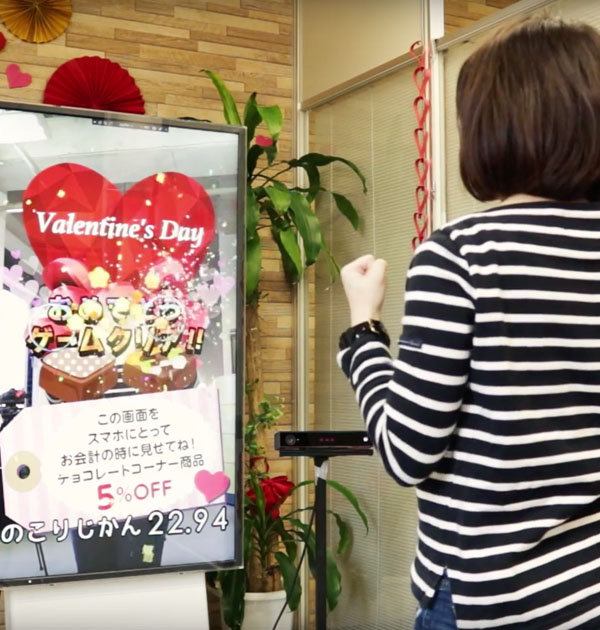 Do not have such troubles?

· I want to raise brand image
· I want to attract a lot of customers' attention
· I want to raise the attraction space
· I want to disseminate the charm of the region and local as much as possible
· I want to check the effect of outgoing information
· I want to gather data and make the most of it
"Adventurous" disturbing the persons in charge of planning personnel. If customers do not gather, it is difficult to pick up products and contents that were thought out well thought out. Such a system that we'd like to introduce to the person in charge that we will not be able to find a way to stop by customers, but see us, is the evolutionary AR signage "Kinesys".
It is perfect as an overseas inbound measure!
Kimono will be added soon to the sample content of "VirtualFashion". As variations, we have various costumes representing Japan such as kimono, Shinsengumi, Ninja, Yamato Takeru Nomikoto etc.
You can also use it for events for overseas inbound.
To begin soon
If you have a display (monitor) and a recommended personal computer, Kinesys can use it immediately. By installing the camera included in "Kinesys Basic Package", you can pass the purchase / rental at the time of borrowing and install the software, you can start the next generation signage system immediately. For details, please visit the blog below.
Movie contents
Kinesys Virtual Fashion2.5D
By using VirtualFashion 2.5D you can easily transform into a character. Just like disposable clothes fitting, just by setting the character's picture, the character's photo starts to follow the movement of the body.
If you hold the hand over the camera icon, you can take a picture and it will automatically be printed on the photo card.
Kinesys Fluffy Function
The fluffy function of Kinesys can display cherry blossoms, soap bubbles, fallen leaves, snow as effects superimposed on moving images and still images. When reacting to the person reflected in the camera, moving limbs will cause cherry blossoms and snow to fly like genuine as it works.
Kinesys manga function
The manga function of Kinesys changes signage screen to manga style display, and it can enjoy various onomatopoeias and effect lines according to human's hands and body movement.
Also, various speech balloons are displayed randomly at the position of the face. By attracting users' eyes by manga-like screen changes, you can expect to improve customer attraction.
Kinesys mask function
Using Kinesys 'mask function, you can enjoy any mask on the user' s face. Since it is possible to recognize the face of multiple users at the same time, we can enjoy it with family, couple, friends and everyone else. In addition, by preparing the contents according to the season, you can expect the attraction effect at various events.
Kinesys mask function (Children's Day)
Kinesys mask image
Kinesys mask function (rainy season edition)
Kinesys scratch function
When you delete (scrape) the contents displayed on the screen by hand within a certain time, new image contents such as advertisements are displayed. Impressive advertisement display is possible while enjoying with children and parents.
Kinesys aquarium function
Tropical fish of 3D graphics swim in the aquarium and provide a space for healing virtual aquarium.
Of course, troublesome maintenance work such as feeding, water quality management, cleaning of aquarium are virtual, so it is not necessary of course. It is also possible to take action against the movement of people and people passing. Fluctuating water effect that matches realistic fish and people's movement can offer a healing space. You can use it in various places such as hospital waiting room, office space, break spot.
* You can also display in portrait or landscape view.
Kinesys light effect function
Provide a fantastic virtual space where light effects emerge in the starry sky
It is also possible to take action against the movements of people and people passing through. The beautiful effect weave with the fluctuation of light adapts to the movement of the person changes the space into another world, and delivers relaxation service.
We can propose content that is perfect for each season's event
We can respond to the needs of customers who want to use Kinesys for each seasonal event, and we can propose various contents.
In addition, by preparing the contents according to the season, you can expect the attraction effect at various events. p>
Be a transparent human! Preparing to introduce optical camouflage contents
It is a demonstration movie that imaged optical camouflage. It is possible to become a transparent human being easily.
It will be added as Kinesys content in the future.
We are preparing to introduce "FACE ∞ OFF" which can exchange face
It is a movie when we developed a demonstration of "FACE ∞ OFF" application which can exchange the face of the person shown in the camera.
It will be added as Kinesys content in the future.
Features of evolutionary AR signage "Kinesys"
"Turn around" Increase customer attraction with diverse content
Displaying a pleasant content that changes from traditional digital signage, responding to streeted customers, changing with movement and sound. Not only displaying information but also turning around to customers like striking "shoulder striking", attracting customers is outstanding.
To begin soon
Kinesys does not need special equipment or proprietary models. You can use it if there is display (monitor) and recommended personal computer. Simply install the camera included in "Kinesys basic package (with Kinect)" purchased and install the software, you can start the next generation signage system immediately.
"Easy" Management system considering UI design as desired
Kinesys provides a system design that considers the user interface (UI) so that anyone can create and manage scenes "easily", so that they can do it as they wish. It has a variety of optional functions and it is one of the attractions that anyone can add functionality as desired with high scalability.
Evolutionary signage system with superior attraction effect can be offered at a price easy to introduce.
Please inquire about the selling price. * Lease contract is also possible.
The best rental plan for events and exhibitions
There is also a rental plan for customers who wish to use in a short period of time, such as wanting to use only the three part of the New Year's Day, attracting customers with contents that have attracting customers at the next exhibition. It includes all the hardware and a set of systems so you can use it as soon as you arrive. We also rent only systems that do not include hardware. Please contact us.
Photo shooting function
If you hold the hand over the camera icon while using VirtualFashion 2.5D, the picture of what you are trying on is taken. Pictures taken are uploaded on the cloud and can be viewed on smartphones. You can also print out as a Photo Card on the equipped printer and take it home.
Face data accumulation function
Kinesys also has optional facial data collection function. From gender (male and female), age (20 years old, 20s, 30s, 40s, 50s, after 60s), emotions (laughing, angry, sad, etc.) , It is possible to acquire in which of which clothes you tried, what screen you were watching, how much time you were watching etc. on a user basis, you can accumulate data in the local PC or upload it on the cloud.
Change background function
You can switch the background of VirtualFashion 2.5D to the local landscape of the resort wedding and synthesize it with the background.
Network compatible
It is possible to exchange contents and programs of Kinesys installed in multiple stores from a remote place. Maintenance staff can update the latest contents and programs without going to the store.
Optional function to choose according to style